Trumpington Meadows Combined Masterplan, June 2007, from the planning application, reproduced by permission of Grosvenor.
This is one of a series of pages about the Trumpington Meadows development.
The outline planning application by Grosvenor for the Trumpington Meadows development was approved by the Joint Development Control Committee for the Cambridge Fringes on 20 February 2008. Permission to proceed with the outline application was given in October 2009, after the S106 agreement was completed. The Residents' Association made detailed responses to the planning application at each stage in the process.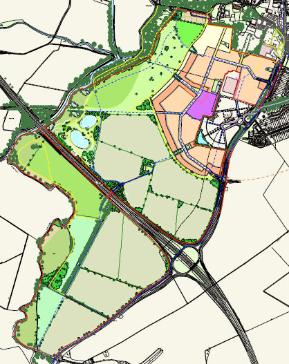 The approved plan includes 1200 dwellings on 30 hectares, a local centre, a primary school and community centre and a 60 hectare park. The housing and school form a C-shape to the north, west and south of the Trumpington Park & Ride site. There will be 40% of affordable homes across the site . There will be a spine road with two access points on Hauxton Road, one near Waitrose and one opposite Addenbrooke's Road. When taken together with the development on Glebe Farm, immediately to the east of Trumpington Meadows, these changes are creating a new distinctive edge to Cambridge.
The overall Trumpington Meadows site is 154 hectares. The River Cam marks its western border; Trumpington Church and Anstey Hall are to the north east; and Hauxton Road to the south east, including the Trumpington Park & Ride site. The area extends south west of the M11, towards Hauxton.
The development is being constructed by Barratt Homes .
Road names (see the Local History Group for the derivation of the names):
• Old Mills Road
• Banner Road
• Rialto Close
• Consort Avenue, including Anstey View
• Spring Drive
• Forty Acre Road
• Kestrel Rise
• Piper Road
• One Tree Road
• Proctor Drive
• Huntsman Road
• Osprey Drive
• Avalon Way
• Bead Road
• Charger Road
• Otter Close
• Hereward Road
• Charger Road
• Carmine Road
• Argent Road
• Berwick Place
• Renard Way
• Falcon Road
• Kinsman Way
• Mardler Close
• Dove Drive
• Britannia Walk
• Ploughman Way
• Avocet Road
• Hornet Road
• Forester Road
• Porter Road
• Oxbow Place
Additional streets under construction in the southern part of the development:
Jupiter Way
Maythorpe Road